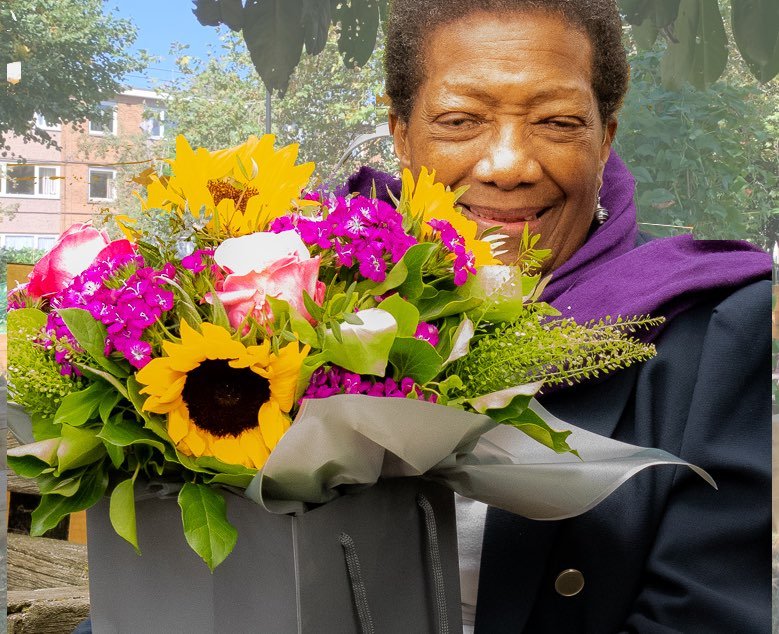 Our congratulations to Yvonne Conolly
We are so pleased to share the news that our very own Yvonne Conolly has been honoured with an important UK education award presented by Prince Charles.
As reported in the Evening Standard, the Prince said:
"Her place as a pioneer of the Windrush generation must be cherished by us all. I cannot begin to imagine the character and determination she must have shown to lead the way for black educators 50 years ago.

"Society owes a particular debt of gratitude to the Windrush generation and to all those dedicated people from different parts of the world who have made this country their home and who, in so doing, have made it a better place."
We're thrilled that Yvonne has been recognised with the 2020 Honorary Fellow of Education award for her great achievements in education.
Those achievements are what we tried to recognise when we named our kitchen garden project, after her as the 'Yvonne Conolly Kitchen Garden'.
The award comes from the Naz Legacy Foundation, a UK-based charity which seeks to promote excellence in education and positive integration into British society.
"It is a tribute not only to one inspiring individual, but also to the whole community she represents, and as such, could not be more richly deserved."

The Prince of Wales has announced Yvonne Conolly as the recipient of the 2020 @NazLegacy Honorary Fellowship of Education. pic.twitter.com/Cm50gS9Uxk

— The Prince of Wales and The Duchess of Cornwall (@ClarenceHouse) October 8, 2020
The charity was established to maintain the legacy of Naz Bokhari OBE, the first Muslim head of a secondary school, Ernest Bevin Secondary school for Boys.
We love Yvonne, she's an amazing person from our community and we wanted to share news of this recognition with everyone, as some of you will have met her around the neighborhood.
We hope you will join us in sharing our deepest congratulations to Yvonne for this well-deserved recognition of her achievements.
Congratulations from all of us at Friends of Wray Crescent.
[perfect_survey id="690″]
Do you want to join our group? Please add your name using this form and we'll make contact next time we send one our our irregular emails.