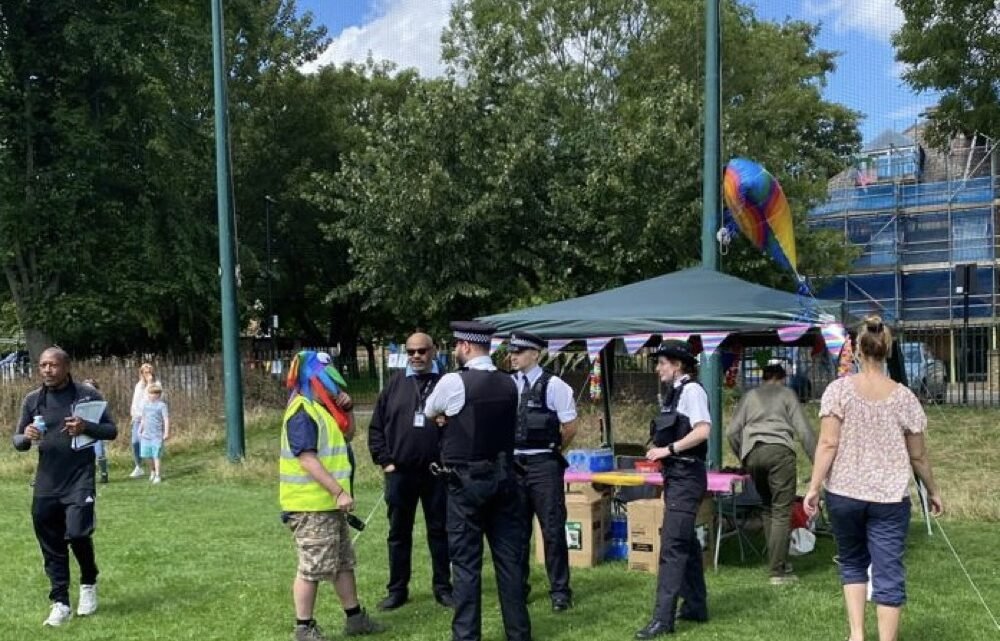 Street briefing Wray Open Space
— Laura Macfaddon – Islington Council 
— Matt Bunce – Islington Council 
— 8 police officers from Tollington, Finsbury Park and Islington teams.
Approx 30 residents attended from the following streets:
Andover
Marriot Rd
Andover
Tollington place
Wray crescent 
Bracey st
Thorpedale 
Tollington Park  
Corbyn St
Almington St 
Hanley Rd
(Others may have been mentioned but being outside meant it was challenging to hear everyone.)
Police
Acknowledged that crime, drug dealing and use is getting worse in the locality. There is a lack of funding and police resources are frequently called on by the Met to attend out of borough incidents.
They advise reporting every incident as decisions about resources are made in relation to crimes happening.
Use 999 only to report incidents that are an emergency. A crime in progress that poses a threat to life or property or if someone is in immediate danger.
Call 101 or go online met police website https://www.met.police.uk/contact/af/contact-us-beta/contact-us/?lid=f79a5079-be5c-48ec-8baa-248cd841346d to report non emergencies. You can also call 101 to give information to the police or make an enquiry.
An example was given where it was difficult to decide who to call where a user was passed out. He was half on the pavement, head in the road and he was unconscious and surrounded by drug paraphernalia. The advice was to call an ambulance via 999.
What police and/or the council have done
Between this park, Evershott and eversholt gardens. At least 10 arrests of drug users.
They have issued warrants; one on Corbyn St where the person arrested has been charged and is serving a 5 year sentence. The property had lots of drugs with intent to supply.
Covert policing from the VSU has led to an arrest on Corbyn Street and two on Burnham Rd.
3 addresses used for drug dealing closed on Andover
Arrest on Friday where an individual was camping on edge of park and despite the arrest being in the afternoon 5 officers involved, 2 staying on overtime until 23:00.
The council and police have a weekly meeting and share information between themselves
Investment has been made in support and outreach teams for users and rough sleepers
Police will increase patrols.
The parks team has cut back trees to improve sight lines to the boarders of the park.
Suggested solutions.
In Wray Park got 4 exits difficult to police. Suggest disabled kissing gates at Tollington Place Entrance, and YC entrance where wheelchair users and people with buggies can get through but cyclists have to dismount to slow down these entrances as escape routes for people on bicycles.
Improve the lighting by basketball courts on Tollington Place
Desire for cctv
Report street addresses we suspect are being used by dealers either to 101 as intelligence or the Council as Anti Social Behaviour
Suggest canvas all roads not just those represented here.
Request for posters to be displayed in and around the area clearly stating who to report what to. Laura said she has posters and they will be put up next week.
Issues people brought up in no particular order;
The meeting wasn't well publicised and was at a time in the middle of the working day so many people were not able to be present and more won't have even known about it.
Street noise is increasing late into the night, along with various criminal activities, including gang fights, car crime, etc..
It's a residential area with lots of children and grandchildren. They're seeing drug dealing and taking, where there are car chases there have been near misses. Responsible adults are feeling fearful for their children.
Various drug dealing hot spots were mentioned.
When we make reports we hear nothing about what is being done. A request was made for us to receive information from council and police with accountability to provide information back to us.
Moving the dealers and users from FP/ Blackstock Rd to here if you crack down here they'll just move to Elthorn / Whittington Park. What else is happening to support those trapped in the cycle.
Support seems to have gone for users since lockdown. Council explained some of the work they do, but lack of resources remains an issue across every sector.