Join us for The Big Buzz festival – May 20
We are celebrating National Bee Day once again this year with a special event to honour bees and all the other pollinators we owe so much to. Please join us for our event on May 20 from noon until 4pm, organised by ourselves with Islington Council's support.
Come and join The Big Buzz Festival
We have plenty of entertainment booked for the party, aimed at children, and we urge you to bring a blanket and a picnic and join us for a pleasant afternoon.
Here's what's going on:
Live entertainment from Mrs H and her Singalong Band
Pot a Plant – pot a plant and take one home with you!
Plant the wildflower trail.
Face painting.
The official opening of the library
The incredible honey stall.
Cake/bake sale (Please bring your own to share)
Tug of war. Make bee tins. And more.
The fun starts at noon. It's all free but please donate to help our work.
Why the Big Buzz?
The Big Buzz is a happy event for children, but it has a message – it's all about the bees!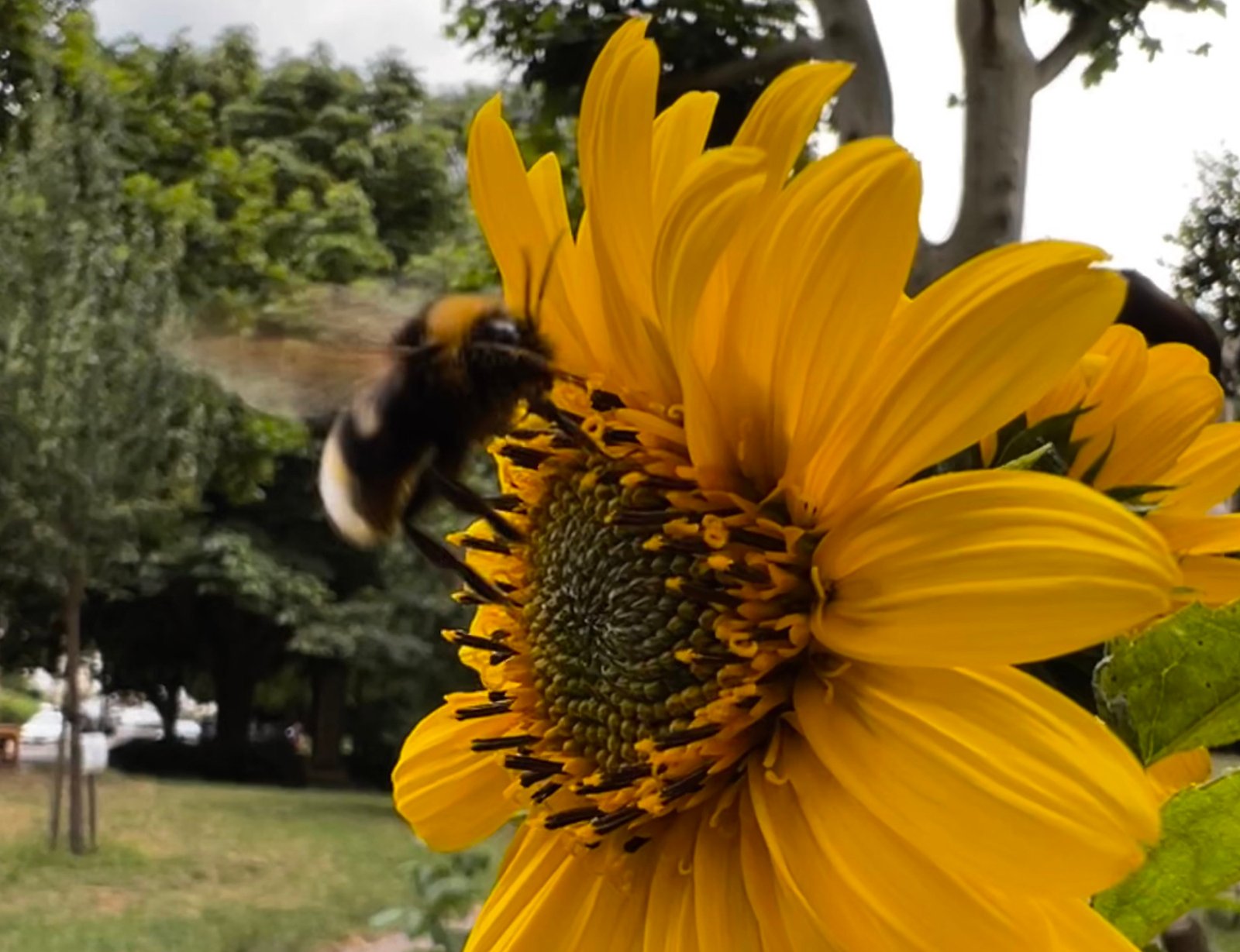 This year is the sixth official World Bee Day, which celebrates the vital role played by bees and other pollinators in the ecosystem.
Bees are the most important pollinator. They should matter to all humanity, as we explained here:
Every third spoonful of world food depends on pollination.
With pollination, bees contribute to successful agricultural production.
Pollination-dependent crops are a major source of income for farmers.
Pollinators have positive effects on the entire ecosystem, preserving natural habitats and biodiversity. 
Boštjan Noč, initiator of World Bee Day and president of the Slovenian Beekeepers' Association, said at World Bee Day in connection with the role of bees in providing food:
"To talk about reducing world hunger without ensuring conditions for the existence of bees and other pollinators is to pull the wool over people's eyes. It is time for everyone to listen to bees, in particular leaders and decision-makers. From now on, 20 May will be a worldwide celebration of bees and beekeepers. I believe that with the proclamation of World Bee Day, the world will begin to think more broadly about bees, in particular in the context of ensuring the conditions for their survival, and thus for the survival of the human race."
The Friends of Wray Crescent think it's super-important to make kids aware of the valuable contribution bees make to our world and lives.
Please join us for the Big Buzz for Bees
We were thrilled to win a Defra award recognizing our work on this in 2021, and we will be continuing with that award-winning project again this year.
So, please join us to celebrate bees at The Big Buzz event on May 20 at noon. Feel free to join our group and mailing list here, and if you like what we do, please donate to our work here.
Stay tuned.
We have much more planned this summer, including the return of yoga and tai-chi in the park, walking football, regular work in the Yvonne Connelly gardens (every Saturday at noon), and a bigger park festival later in summer.
Come and get involved. Spread the word on social media — help build a good buzz!