Poll: Choose a community library design!
We continue to strive to do what we can to make the park what it should be — a hub for the entire community. We know that means listening to people, and one thing we have heard is that lots of people would like to start a little community library.
We have done some research and a small group of us looked at lots of ideas. After much research and discussion, the top three design results are in!!! We have found three ideas we think might work as a community library in the park. We're willing to try to raise funds and try to make it happen.
All we need to know is which of these three ideas you like best.
Here are the three ideas that we think might work in our precious park. We are sorry the images need improvement.
The poll will close on November 18, so please share it with friends and neighbours — and if anyone can volunteer fund raising ideas, a workshop, help to build it, please drop us a line!
1. The Tree House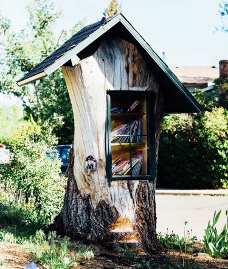 Fitted with a minimum of 3 shelves, interior solar lighting, window door and carved steps.
Our Tree House will look much the same as the image provided.
In addition to the charming pitch roof, we will ensure the roof is covered with native wildflowers, grasses and sedum to increase biodiversity.
2. The Window Box
This image depicts a library box currently situated in the N7 area.
It holds 3 shelves and is fronted with two perspex pane doors to peer inside.
This simple design has a wooden pitched roof with model chimney.
The library box will require a stand to secure it
3. The Cabinet
This design hosts 6 smaller shelf units and double door panels.
The unit rests on top of a table styled support.
The narrow pitch roof is tiled
The survey is now closed.
Here are the results:
[perfect_survey id="1274″]