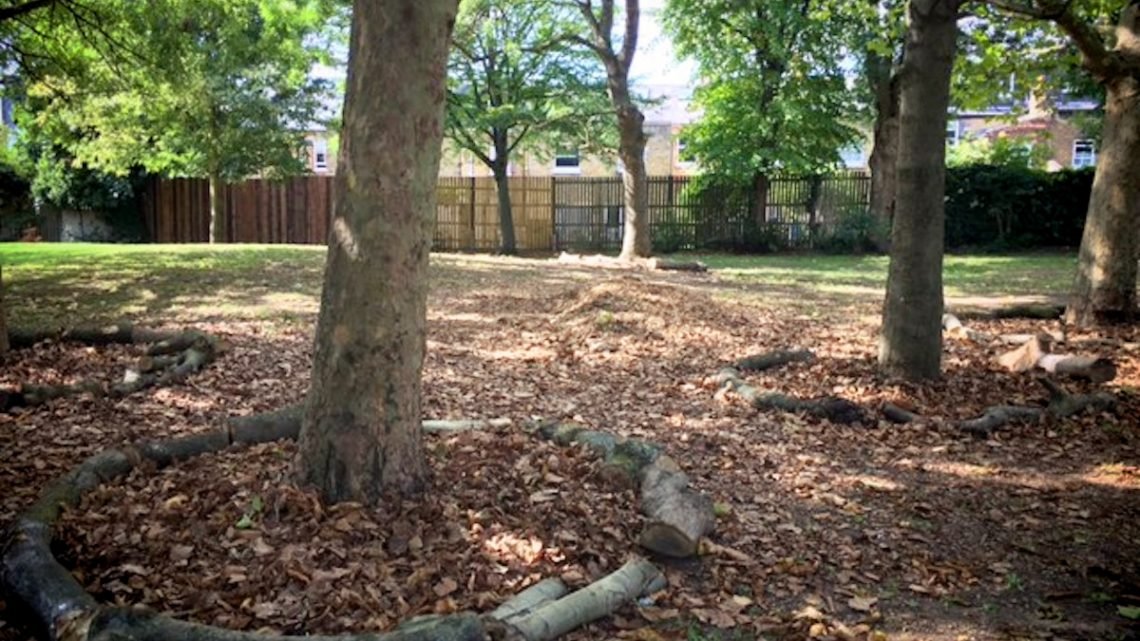 Sustainability – full circle
What we are doing for the park's trees
By Sacha Austin
On Saturday I spent a memorable morning running the park workshop here at Wray Crescent Park. I had begun the day pretty stressed about the prospect of moving about two tons of logs from a corner of the park without my trusted volunteer support team.
The logs had to be moved. Reports had come in about local drug users using the area and neighbour concerns.
I put a message out on our WhatsApp group, met largely by silence but one promise and a couple of 'sorry's'. I began to lift logs into the wheelbarrow. Suddenly I was cheerily greeted by Larkin (a young, local girl), her brother, Herbie and their Dad, "Hello, we are here to help!" they said, and the day immediately got better.
Between us we managed to move all the logs, situating them in circles around the base of trees in the park area adjacent to Wray Crescent Road.
I was delighted, Larkin and her family had helped start a permanent conservation project within the Park! And I can't thank them enough!
The reason for the log circles is to protect the tree base, provide nutrition and retain moisture.
A hot year has stressed the trees
Looking back over this year I've noticed some changes within the park. The summer heat bleached the area and our voluntary efforts to replenish everything quickly disappeared with the hosepipe ban. I also noticed the large amount of fallen dried leaves, it looked like Autumn only we were in August. The trees were stressed and there was no water.
Originally the park was the location of many houses. Beneath the grass are the remaining foundations of these structures, with brick, regional clay/chalk soil base, and a huge network of tree roots. The earth is basically very compact and dry.
Improving soil structure can be expensive and in some cases requires more expert opinion but there are some things we can do ourselves to increase the soil's nutritional value and enable it to retain moisture better – and that is to Mulch.
Let the mulching begin
The best times of the year to mulch are autumn and spring. Spring is generally better as the soil is more wet and more accessible after months of British damp weather, but since we are starting this as a new conservation project now is a good time.
In my perfect world we would have a bigger area designated for compositing in order to support and achieve a wider set of sustainable outputs for the park, including increasing what people know about the process we call mulching.
So what is Mulch?
There are many kinds of mulch, but in Wray Park we focus on three specific types at this point, because they provide longer term benefit and are something we can mostly recycle ourselves, or source locally:
Woodchip: This bulky mulch breaks down slowly and is ideal for improving soil structure, drainage, and retaining moisture. We use it around the fruit hedges and to provide a path for everyone through the boggy parts of the park in autumn and winter. We receive (and shift – Ed) about 9 tons of woodchip, sourced from Islington Council and arborist company, Ashmore Trees each year.
Garden Compost: A collection of all garden vegetable and park waste, hedge clippings etc. The aim is to create a good balance of carbon and nitrogen content. We invite residents to add their fruit and vegetable waste but have very strict guidelines as everything we produce or use is organic. When ready, this compost is added back into the raised vegetable beds for topping up soil levels and adding high nutritional value. By the way, many people consider garden composting as a process of 'rotting' – but it's not! The waste is actually digested by an enormous array of bacteria, fungi, nematodes, and 'brandlings' (distinctive red worms that only live in compost heaps – God knows how they get there!) It takes an average of 2 years to complete the cycle.
Leaf Mould: Sacha's pride and joy! An ideal soil improver, whilst nutritionally less rich than garden compost its decomposition process is fungal (needing moisture, not heat). Our leaf gathering is a mixture of Plane, Hawthorn, Apple, Ash and Horse Chestnut. Whilst the leaves decompose at different rates, we are beginning to use it after one year for mulching around the base of trees. This mulch, topped off with woodchip is now beginning to be placed within the log circles.
Get involved!
Our leaf gathering, path-making and mulching sessions are now in full swing so come and grab a rake!
Workshops are each Saturday anytime between 12 to 2pm. You'll often also find us there on Sunday mornings from 11am, so if you want to work up an appetite for a good post-volunteering lunch, just get in touch!
As usual, many thanks to everyone who contributes in some way to our park, particularly this month to Larkin and her family and with gratitude to all the local residents who did so much to support our work by giving so very generously at the Thorpedale Road street party.
We're enormously encouraged by your support. Thank you.