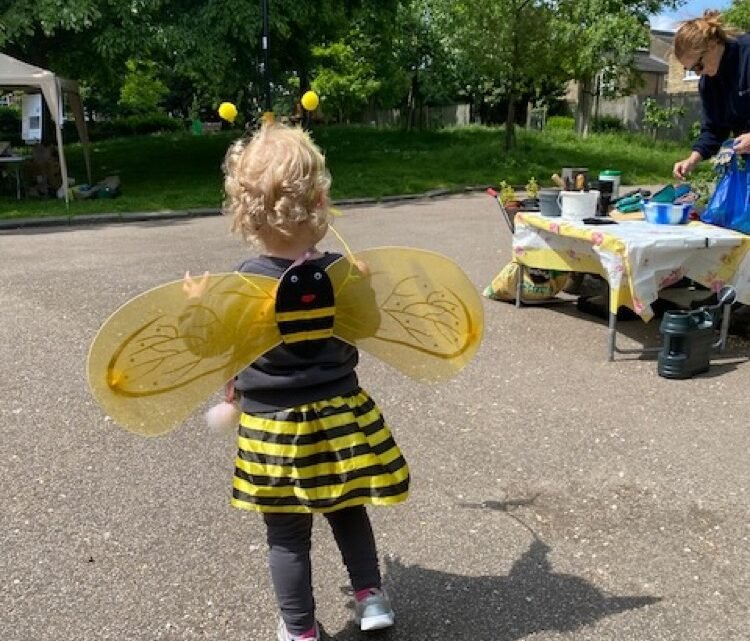 Thanks for coming to Big Buzz 2023
During the first Big Buzz event to celebrate Bee Day we estimate over 200 local residents and kids showed up for fun in the sun – we think it was a good start to what we hope will become an annual event.
We wanted to thank everyone for coming, and hope you all had a nice time. In this post we're sharing some images taken during the day which we thought you might enjoy.
Thank you for it all
We wanted to thank a few people for all their help on the day:
Islington Council's park's team for wonderful support and for putting so many potted plants across our community.
We want to thank everyone who showed up to run stalls, including Zoe's scrumptious and fast-selling vegan cakes, the amazingly hyper-local honey from Local Honey Co, and Jade, our wonderful face-painter who created such lovely designs and seemed to have a huge queue of kids to paint all day.
We also want to thank the people who provided us with entertainment:
Mrs H and Her Sing Along Band gave a smashing performance.
Actress Leah Whitaker who came to read stories to the kids to celebrate the 'official' opening of the library.
Lois and Rachael for festooning us with fun things to do for kids.
Sacha's wildflower seed workshop.
The Wray Crescent travelling history exhibition.
And of course everyone who gave us such a wonderful moment of chaos during the tug-of-war.
We also wanted to thank everyone who showed up to help us with tangible things we needed, so that's Jenny at Paradise Park for gazebos, Jonathan, Keith and Adam for tables, Rachael for these photos, and everyone who pitched together to keep things running during and before the show.
We wanted to thank all of you who turned up and made it a lovely day that we think gave everyone a few pleasant hours in the park. Sadly we didn't quite break even on the event, and we'd be grateful for any donations you can make as we move toward the bigger show in July.
And finally, as you'd expect, we should thank the bees and all the pollinators whose actual existence makes anything we do possible. Without them, we wouldn't be here. Save the bees!
We have more to come, get involved
Next year we hope to return with more entertainment, stalls and more.
Don't forget our forthcoming public meeting on June 11 (location TBD), when we hope to get more people involved in planning and making things happen in the park – particularly at the July festival event.
Also watch out for the return of yoga and tai-chi in the park this June, feel free to join our walking football group on Sundays at 11am, catch us at our regular weekly Saturday gardening workgroups from noon, and be prepared for the late summer/autumn season of Tolly Talks.
Thank you to all of you for coming. Please join the mailing list to get more involved, or donate if you are able.
Thank you everyone and if you have ideas of how we can make next year's event even better, do let us know.