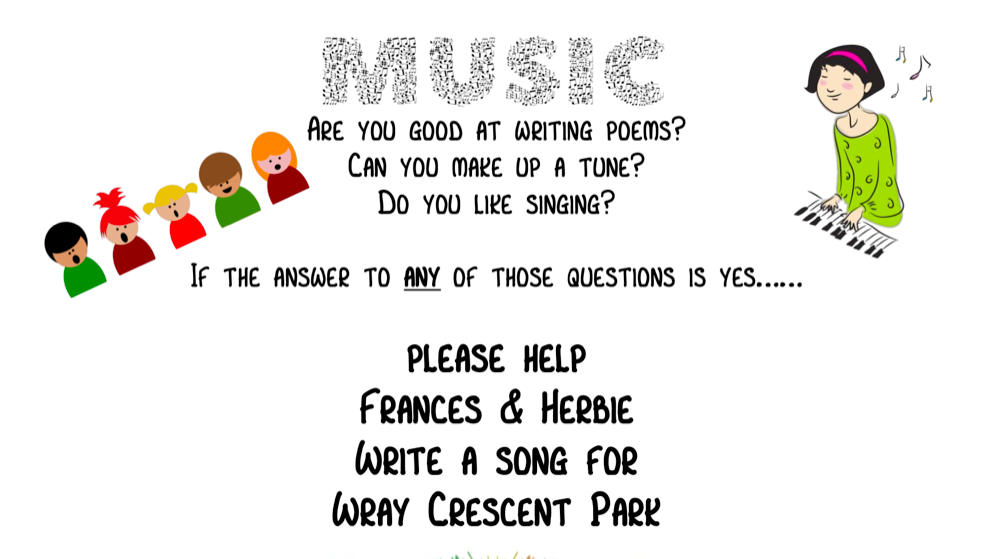 Help write a song for Wray Crescent
As part of our preparations for the Wray Crescent Festival, July 29, we'd like to invite you to get involved in writing a song for Wray Crescent Park.
Just turn up and….
Meet to begin working on the song on July 15 at noon
The idea is that Frances and Herbie will be at the festival and will work with people there to write the verses for the song, but they want to get everyone together to write and learn the chorus first.
So, if you (and/or your kids) are good at writing poems, or good at making up a tune, or really like singing, then please come along to talk with and work with Frances and Herbie during our regular gardening session on Saturday, July 15 at noon.
We will be near the Yvonne Connelly vegetable garden.
Please come and meet them at the park – and they will lead us all in singing it during the festival on July 29, once the song is complete. If you can't turn up, just share your ideas in comments here and we will get them to them for you.
Bring your ideas for a song
Bring your ideas and help the fantastic Frances and Herbie Write a Song for Wray Crescent. And do download the leaflet to share, or just share this story with anyone you think might be interested in helping to make our song.
Also don't forget, yoga and tai-chi return to the park starting July 7 at 6:30pm.