Wray Crescent Festival photos & thanks to all
We don't mind admitting it, we were exhausted after putting the first of our Wray Crescent festivals together. So, a little later than planned, we wanted to share some images of the day, ask for some ideas, and invite people to get involved if we decide to put together another event like that.
What a nice day we had
We had a lovely day.
We saw lots of smiles, heard some great music, enjoyed browsing the stalls and taking a chance on the coconut shy. We enjoyed the excellent walkabout acts, helped write a song, and got involved with a little Punch & Judy (the kids were entranced).
We even ate some delicious Indian street food. It felt like everyone enjoyed themselves a little, and after the show we staggered to the N19 for more great music and some much-deserved down time.
This was our first event at this scale, and we hope to make an even better event next year.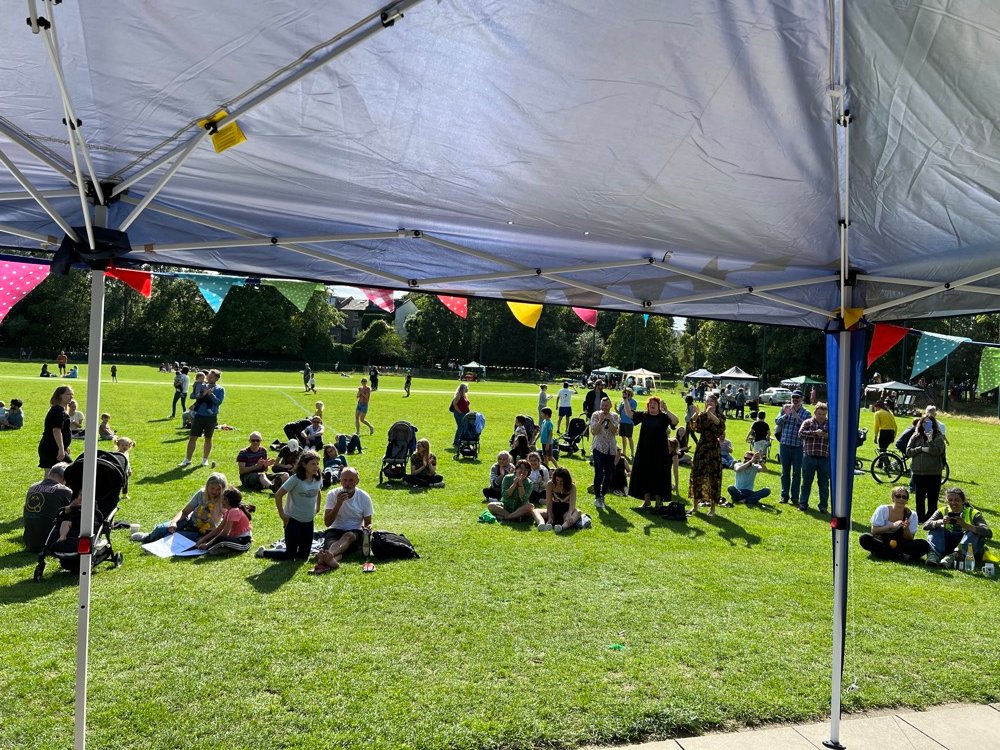 A huge thank to everyone who helped
We also wanted to say thank you to everyone who helped:
First, a big thanks to LBI's parks department, especially Julian, Shan, all our park keepers and everyone else within the organization we roped in to assist in all kinds of ways. Not only did they provide unstinting support as we attempted to organize the event, but they also helped finance some of the acts, including the two face painters who quite literally did not stop all day.
Thanks to the stage, acts, and raffle crew
We also wanted to thank Tony, Karen and the N19 gang who came along with some fantastic acts from the brilliant Tuesday evening open mic night they run weekly at the N19 pub. Not only did they bring the acts, but Tony ran the stage area for us and lent us his PA for the day. This made a huge difference in making the music possible. Thanks to the acts, all the N19 artists, Mrs H Band, Electric Voice, Andy Hamilton, Nick Putz and Pam & Mick.
We are so very thankful to Georgina and John, from Pretty Shiny Shop who put together the raffle and all those brilliant prizes for us. Not only did they help us when things got tough organising the show, but the work they did meant that our festival paid for itself, which gives us the confidence to try again next year. They are fantastic.
And of course we wanted to thank everyone from the fire crew who turned up with their engine and let the kids explore the machine.
Thanks to all the people who ran stalls
We want to thank all the stall holders.
That means you, Vinesh and Desi thali with your delicious Indian food. That also means you, Acorn community union who have just launched in Islington. Thanks too to Astral Eternal, Zoe for the yummy vegan cakes, Soner and his brother, Bulent (Local Honey Company) for the tasty honey and Nejlah who sold us those delightful candles.
We also want to thank all the people who ran blanket stalls – Katy, Thomas, and Tina who sold clothes, games, and eye-catching bric-a-brac. We hope all of you had a nice day. Finally, a special thank you to Hazel, who helped put us in touch with some of the stalls – you were such a help, Hazel.
Thank you for the raffle
We can't say thank you enough to all the local Stroud Green (and Hornsey Road) traders who gave such great prizes to our raffle. Thanks to all of you:
Thank you all so very much.
Thanks to everyone who helped
In the background, we also want to thank Islington's Park dogs' squad who put together the excellent dog agility course, Leah, who judged the dogs and the fancy dress; We want to thank Jonathan Ward and everyone from Marriot Road who supported the event with the coconut shy and the local fire department who turned up to let the local kids crawl around their fire engine.
Thanks to Herbie and Francis for coming up with the song for Wray Crescent with an incredibly catchy chorus.
Thanks to Taedza and all the Wrayvens FC crew who showed up to run the tug of war and sports and games. A huge thanks to Jennifer and Friends of Paradise park who lent us the gazebos.
Thanks to our volunteers, Des, Jonathan and the Marriot Road crew, Adam, Leah, Kay, Lois, Jonny, Sacha, Rachael, Mohammed, Paula, Lexi and everyone else who selflessly gave up so much of their precious, precious time to help make sure the festival went well.
None of this would have happened without all this effort from all of these people, and every single one of them deserves thanks for making such a huge contribution.
Thanks to you for turning up
Finally, thanks to everyone who turned up. We really hope you had a good time, and we're very interested in how you'd like to improve the event next time. For example, we think lots of people may have noticed the lack of hot drinks on site, but this was because we lacked a reliable power supply, which is a problem we hope to solve next year.
What would you like to see next year?
So, what would you like to see from your festival next year?
What would you like to suggest, and do you know anyone who might want to get involved? Would you like to help build next year's event? Please write to us here and make your suggestions.
If you turned up and enjoyed it and are in a position to contribute, we'd really appreciate a donation to help with all the work that we do. But thanks to every single one of you for playing your part in this year's event – get involved to make next year's community party happen. Thanks from the four who got the party started with the silly hats in the picture above.